The following analytical tools and maps were created for the Kenosha News by New Perspective Data Solutions. These materials were created as part of an ongoing relationship between the Kenosha News & NGM Partners/Larry Maynard. While the data is now a few years old, New Perspective can quickly update these maps and reports. In addition, they can serve as the starting point for additional maps we offer for our Media & Advertising clients. We offer many other types of maps and market analysis as well, so please feel free to browse the rest of our site.
Contact Us at (630) 668-3129 or use the form at the bottom of this page to arrange updates to these maps, creation of additional maps or to discuss other ways New Perspective can help the Kenosha News.
---
Market Coverage/Zone Maps
These are standard coverage and zone maps used for marketing materials, presentations, websites, etc. They illustrate the footprint of your coverage within the market and are typically built at the ZIP Code level. New Perspective included advertising zoning data in the thematic shading of the covered ZIP Codes to provide an easy-to-understand look at the zoning scheme.
---
Sales Territory Maps
New Perspective created and maintained Sales Territory maps for the Kenosha News for a number of years. The zones were created through an interactive, multi-step process that started with a current business list from the market. Each business was geocoded and mapped, then the initial territories were created. Business counts by territory were calculated, then the zones were "re-balanced" to ensure the proper distribution of businesses were included in each zone. Later revisions also incorporated household demographic data and carrier route boundaries for additional insights.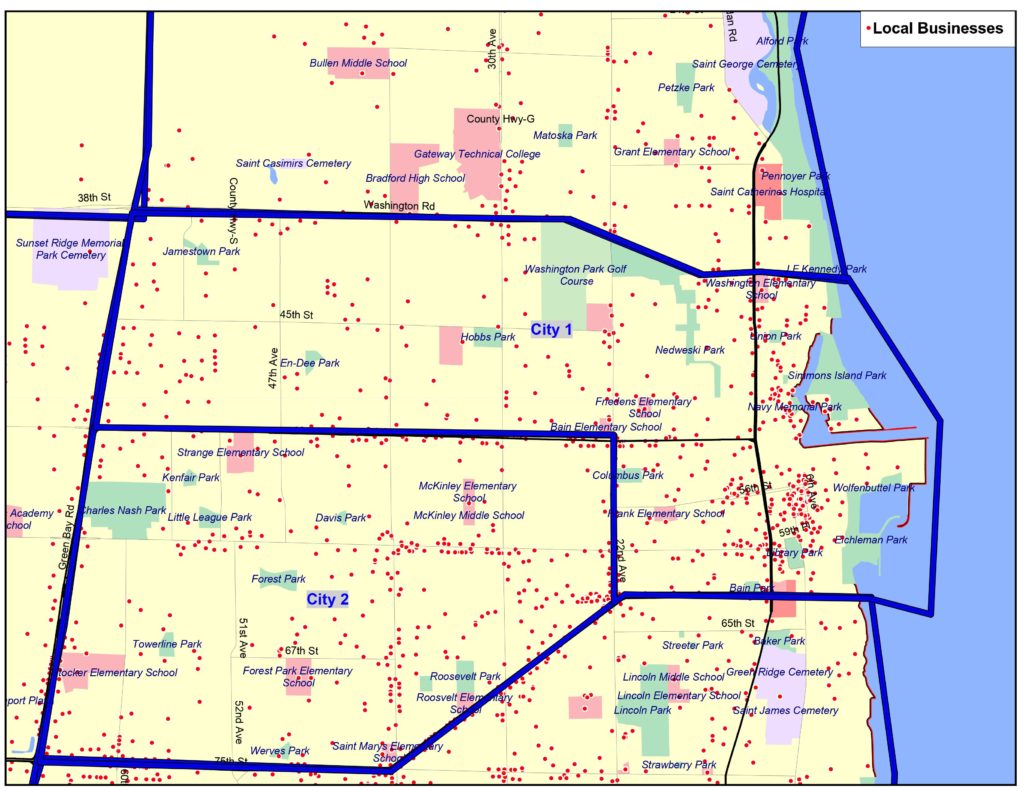 ---
Market Analysis
New Perspective has completed many types of analysis for the Kenosha News including market and subscriber demographics, competitor coverage & rank reports, advertising revenue analysis and more.
---
Advertiser Maps
New Perspective furnished custom maps and reports for many advertisers and prospective advertisers. These maps display advertiser locations overlaid on Kenosha News coverage, in some cases with current buy ZIP Codes highlighted. These maps are perfect for sales presentations as they provide an easy-to-understand visual of covered locations as well as opportunities to offer coverage for additional locations in the market.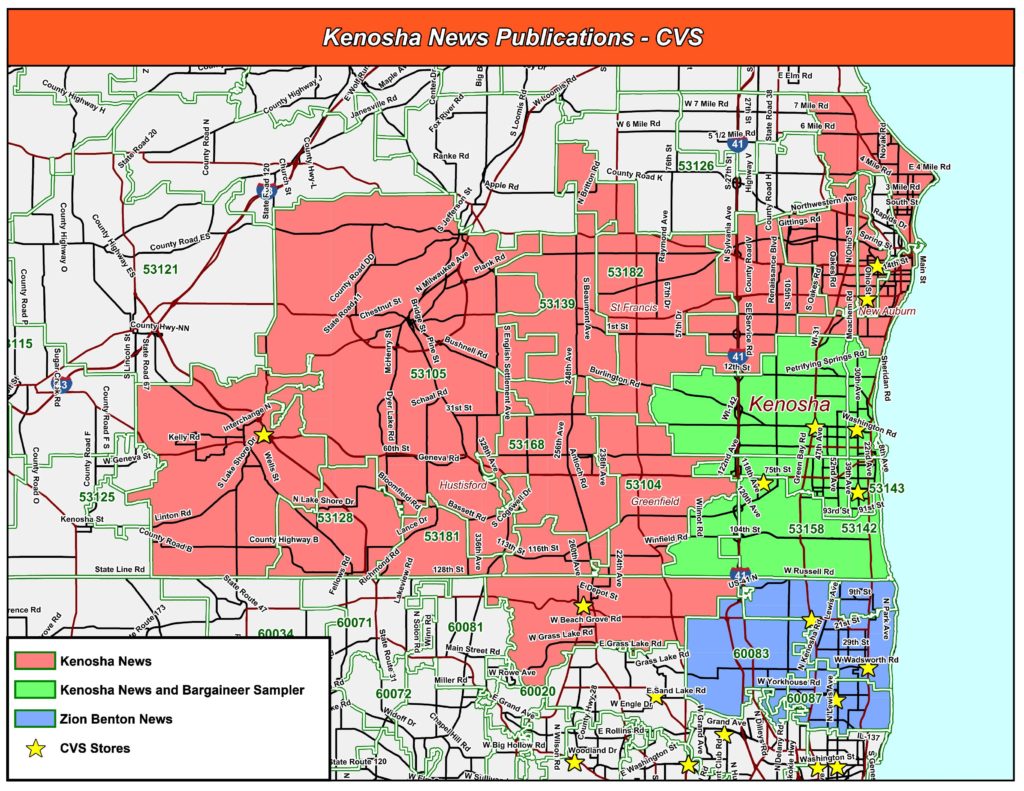 ---
Please fill out the form below or Contact Us at (630) 668-3129 to begin the process of updating any of the maps & reports on this page, or to discuss the many ways that custom maps and market analysis can help the Kenosha News better serve its customers and readers. For a limited time, New Perspective is offering significant discounts on all of our services for current and previous customers!